Key Revit Concepts include Modelling, Elements, Parameters & Families
Modeling
In the Revit model, every drawing sheet, 2D and 3D view, and schedule is a presentation of information from the same virtual building model. As you work on the building model, Revit pulls together information across all other representations of the project. It automatically coordinates changes made anywhere—in model views, drawing sheets, schedules, sections, and plans.
Elements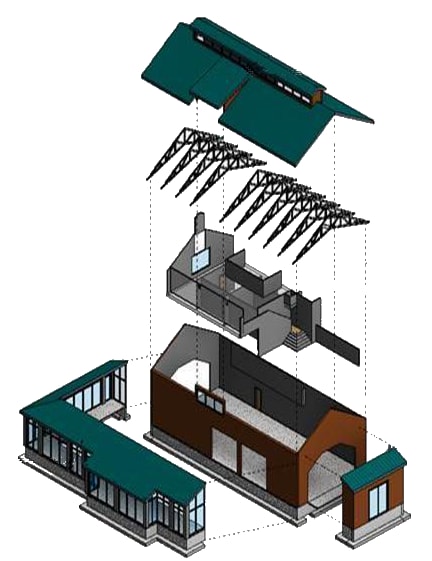 Elements are the building blocks of a 3D model. They represent the real-world components that a designer adds to the model.
Some elements—such as walls, windows, and beams—are 3D and appear in all views. You can think of these elements as components that exist in a building. Other elements—such as tags, dimensions, or other annotations—appear only in the view in which they are placed.
These elements maintain rules and relationships to each other. For example, when a roof is attached to walls, a relationship between the elements is established. These rules and relationships make changing the model easier.
Parameters
Parameters define the size, shape, position, material, and other information about an element in the model. Parametric modeling refers to the relationships among all elements in a project that enable the coordination and change management that Revit provides. These relationships are created either automatically by the software or by you as you work. Here are some examples:
A door is a fixed dimension from an adjacent partition wall. If you move the wall, the door retains this relationship to the wall.
The edge of a floor or roof is related to the exterior wall so that, when you move the exterior wall, the floor or roof remains connected.
Rebar is spaced equally across a given element. If you change the length of an element, Revit maintains equal spacing among elements.
All the elements you add to your Revit model are organized into families. This includes walls, doors, structural members and mechanical equipment. Or annotation elements such as elevation symbols, door tags and column gridlines.
A family is a collection of elements with identical use, common parameters, and similar geometry. For example, although you may have different sizes of desks, all the sizes can belong to a desk family. If you look in the Project Browser, you can see a branch called Families.
We offer a range of different Revit training courses – to find out more information use the links below or contact us by clicking here.
Autodesk Revit Architecture Fundamentals Training
Revit Template and Family Creation Training
Autodesk Revit MEP Fundamentals
Revit Structure Fundamentals
Autodesk Revit Collaboration Tools
Revit Architecture: Site and Structural Design Training
Autodesk Revit Conceptual Design and Visualisation Training
Revit for Project Managers
For more information please contact us today!