Top tips on working from home for designers and engineers from our Head of Technical Support, Rob Hargreaves, who is currently self-isolating.
Working from Home
As you can imagine, we are receiving a large number of calls relating to working from home, so whilst I have been self-isolating I decided to outline a couple of options and tips below: – hope they are useful!
Remote Control
Remote control your workstation from your home PC using the free Chrome Remote Desktop tool. Follow the link below for instructions. Please note that with this option the graphics may lag a little and you won't be able to use your Spacemouse but your machine will behave just as it does in the office (because it's still in the office).
VPN
By configuring your workstation to connect to a secure VPN or Virtual Private Network you are able to take it home, connect it to the internet and work as if you are plugged into your network at the office. Your connection to Autodesk Vault and your drive mappings to company servers should work fine (if not a little slow). Remember though if you take your desktop or tower PC home they don't usually have WiFi so you will need to set up close to your router or use Powerline Adapters*, just make sure you get the ones with Ethernet ports built-in (and take home a network cable).
If you are using network licenses you may need to increase the amount of time your application will wait before it gives up trying to get a license. This involves setting up a system variable on your workstation. See here for instructions. Click here
*Powerline adapters are filters which allow network signals to travel down your domestic power cables. See reviews below:-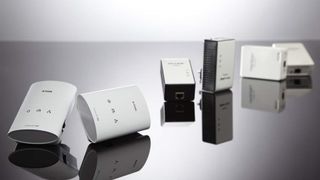 Inventor Users
For you Inventor users, if none of the options above are suitable and you decide to copy your data to your workstation and take it home please consider the following:-
Copy your Templates and Design Data folders too.
You may need to create a new Project (.ipj) file to point to your local hard drive and templates.
The files you are working on are not visible to other users so stay in touch when working on parts of a model which may influence other parts of the design.
Useful Resources for Designers and Engineers
Resourcefulness during Covid-19 is absolutely essential and we have been sharing these resources with our customers throughout the pandemic. Here are some of the most useful.
The Autodesk Resource Center
Guidelines for installing and using Autodesk software in a virtual environment
Best practices for optimizing your VPN
Best practices for accessing Autodesk software while working remotely
Guidelines and help for using Autodesk software at home
There's also a Webinar Series on remote working and collaboration for Design and Manufacturing Professionals, and for Architects, Civil Engineers and BIM Managers
Top 6 Tips for Designers  and Engineers Working from Home
Set your dining table to its 'Christmas dinner configuration' to fit all of your equipment. I have even seen pasting tables dusted off and set up as home offices too.
Dig out the headphones that came with your phone, they usually allow hands-free calls to customers and suppliers while you are operating your PC.
Your TV will likely have a spare HDMI port so you are able to use it as a second monitor (don't forget the extra HDMI cable).
If things get a little quiet take the opportunity to learn about new areas of the application or Autodesk Collection. Or some of the great podcasts out there – A few ideas for you just here – BIM Podcasts, Product Design Podcasts
You are working in close proximity to your fridge, avoid the temptation to eat all of the food you have just panic bought.
Don't forget why we are doing this
Please share your home working successes with us or email support@quadrasol.co.uk for further advice on using your design system at home…
For more information please contact us today!